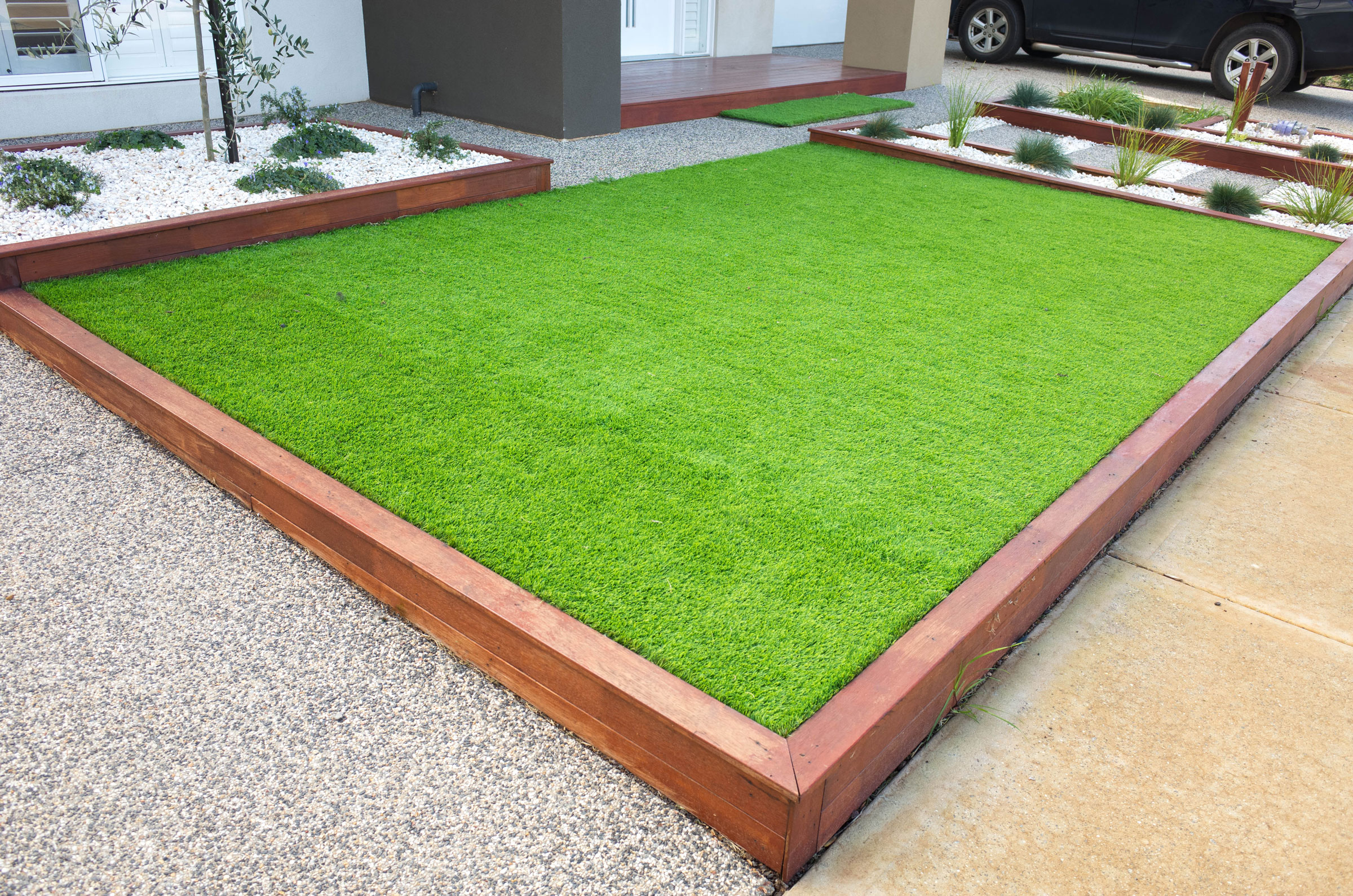 Artificial Turf
Synthetic turf is low maintenance and always beautiful.
Designed to perform
Artificial Turf; beautiful and low-cost maintenance
Synthetic Grass offers the rich look of real grass with our environmentally-friendly synthetic grass and turf products. Designed for the ever-changing Canadian climate, the use of breakthrough materials and processes in manufacturing ensures they will look and feel just as realistic and beautiful for years.
Easy installation
No mowing
No watering
No fertilizing
Great for pets
Commercial and Residential Landscaping
The level of maintenance of a yard can make all the difference when it comes to how it looks and how clean it is. The fact is that maintaining a lawn takes a significant amount of time and effort. With our artificial turf be assured that the maintenance required is far less than with a conventional yard and is much safer.
Our synthetic grass will always have a fresh cut look. It is the ultimate way to enjoy a great looking yard without the regular maintenance. This grass requires no water, chemicals, fertilizers or insecticides and is great for pets. Furthermore, our synthetic products are anti-microbial so there is never a worry about harmful bacteria building up or allergic reactions caused by the grass.
Heat and frost resistant, UV stabilized
No harmful environmental effects
Non-flammable, anti-acid yarn resistant to chemical attacks
Great for landscaping applications, playgrounds and dog run areas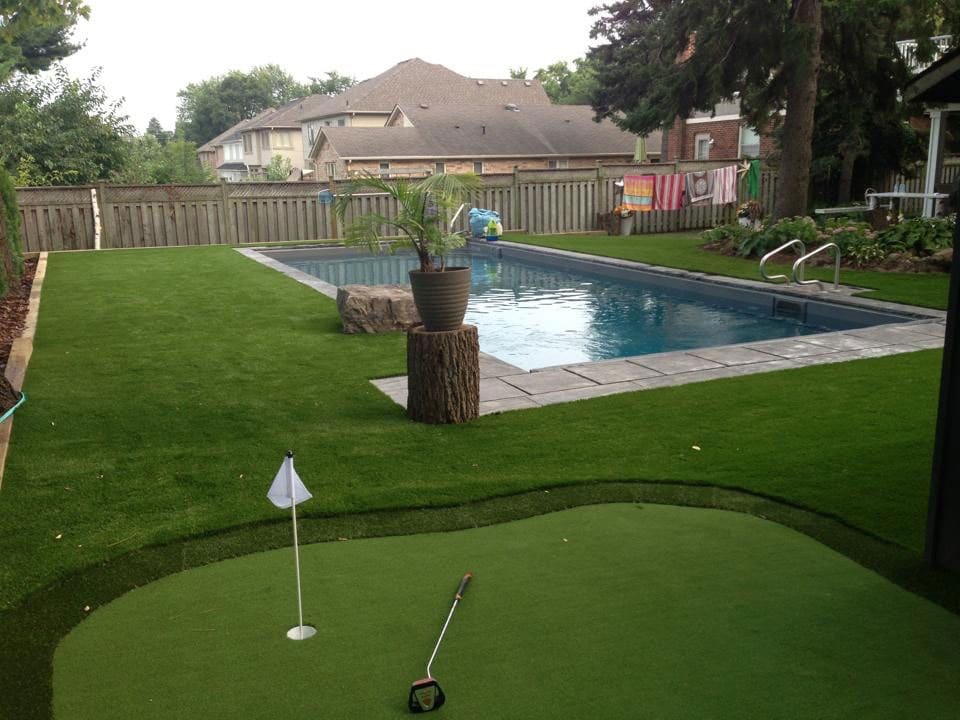 Artificial Turf For Playgrounds & Play Areas
keep kids safe and have fun doing it! synthetic turf makes a great base for playgrounds, preschool yards and more!
Healthy environment for your child's play
Rymar offers three playground systems* dedicated to bringing the safest and best-fit products for your clients' play area needs.
Rymar Rubber Mulch
Rymar Playground Tiles
All three of our playground systems meet or exceed US CPSC and IPEMA guidelines for playground surfacing. Rymar playground surfaces provide the optimum fall height up to 16'.  In keeping with stringent ASTM requirements for playground fall safety, our products come in a variety of thickness and colours to match equipment and personal needs.
---
Artificial Turf Solutions For Soccer Fields, Indoor Arenas & More
Some Sports Are Just Better On The Grass! With Synthetic Grass Fields For Soccer, Football, Baseball & More. Enjoy Year-round Play & Performance!
Performance And Longevity
Rymar Sport is dedicated to bringing your clients proven products that best fit their facility needs. Our team of highly- trained staff will build and work with the end customer to create a surface that will ensure maximum performance and longevity.
Options For:
Outdoor Football, Soccer, Baseball, Lawn Bowling Lacrosse, or Multi-purpose Fields
Practice Fields
Park and Recreation Fields
Intramural Fields
Batting Cages
Sports Performance Facilities
Tennis and More!
Specialty Options Available
We can sew on Velcro seams to any foam turf products so the field can be modular and does not have to be a permanent installation. Our field and sport products are all professionally glued or sewn together using the industry's leading products.
We can customize any product to meet the specific requirements of the project. Customization includes choosing fibre type, face weight, pile height, colours, roll sizes and more. 
We can meet your unique Sport needs by tufting in permanent lines for just a single sport or multi-sport fields. We can customize Logos, numbers, hash marks, and advertising.
If you have an existing field that is failing and don't know where to turn.
---
Artificial Turf For Putting Greens
Master Your Short-game With A Rymar Putting Green! Short-cut Artificial Grass Uses The Latest Synthetic Turf Options Available.
Take Strokes Off Your Game
What better way is there to practise putting or entertaining guests than having a personal putting green? Help your clients take strokes off their short game by creating a practice area in their backyard, office or basement.
Rymar has the perfect solution to any sized putting green with our premium selection of golf products. Our putting greens react to putts and chips like natural grass greens. Artificial turf putting greens are the ideal choice for golf courses, and for commercial and residential applications of all sizes. We have a wide array of choices when it comes to synthetic grass for putting greens. Our professional sales and installation team will customize the products for any outdoor and indoor greens.
We Provide:
Outdoor Backyard Greens
Indoor and Portable Greens
Full Commercial Green
Driving Ranges and Mini-Putt Courses
Hitting Mats and Simulator Surfacing
Sand Traps
Artificial Turf Catalogue
Call for information
For availability and pricing please call our office.