Top 10 Landscaping Projects For 2021
2020 was the year of home improvement. With everybody being stuck at home all the time, the little things they wanted to fix about their homes became super obvious and nerve-wracking. Plus, renovating spaces to fit in home offices or otherwise rearrange their homes became a high priority for many homeowners.
Now that you've got your home the way you want it, it's time to turn your attention to the exterior. Yes, 2021 will be the year of landscaping projects and now is the perfect time to get started!
Are you looking for ideas on how to spruce up your space effectively? Check out our favourite top 10 landscaping projects for 2021 right here!
The Top 5 Projects for Small Yards
The type of project you'll want to take on will vary by the kind of yard you have. An expansive lawn with a large patio, firepit, and fairy-like gazebo won't fit in a small backyard. Even if you can cram it all in there, it will seem cramped and awkward.
So let's break it down. You can look at a small yard and think it seems cramped or feel like you're stepping into a cozy little world. It may have to do with your outlook, but a lot of it has to do with the organization of the yard itself. Proper use of open spaces, strategic plant placement, and defining an area's purpose help make it look larger.
So let's talk about our five favourite landscaping projects for small yards in Southern Alberta.
1. Build a Secret Garden
A small yard is a perfect opportunity to plant and enjoy a little garden oasis. Of course, here in Alberta, we face some pretty cold temperatures in the winter, so the plants you choose need to be hardy enough to withstand the cold.
Thankfully there are a few on the list that you can pick. Fir trees and bushes are always a great choice, and vibrant maples are great for colour if you don't mind picking up the leaves. Pick a few colourful flowers like verbena, achillea, peonies, hostas, irises, columbine, and more to decorate amid the more permanent trees and bushes.
Be very aware of how much sun your flowers need. Some, like irises, will grow in this climate, but only if they get at least 6 hours of sun. If your yard is shady, stick with plants that love the shade and save the sun-loving flowers for the sunniest spot in your yard.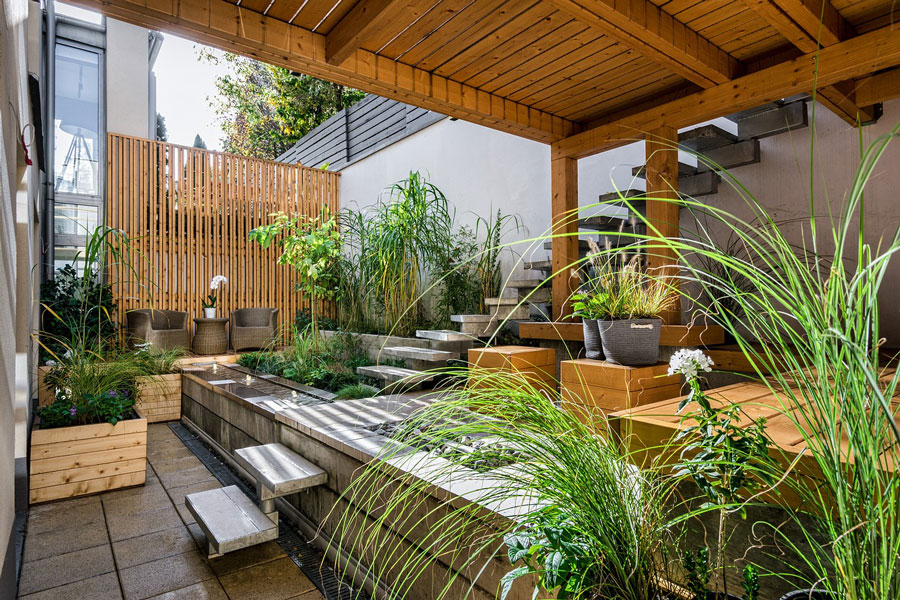 2. Low-Maintenance Hardscape
Even if you choose low-maintenance plants, keeping up a garden requires maintenance. Leaves will fall, you will need to plant new flowers, the grass needs mowing. And, let's face it, growing a lush garden is only for a few brave souls with very green thumbs in this area of the world.
The rest of us will benefit from installing a classy, low-maintenance hardscape.
Hardscape is any of the non-living elements in your yard. These would include patios, gazebos, arbours, pergolas, etc. Of course, most of these hardscapes would overwhelm a small yard. However, hardscapes also have pathways made from patio pavers, crushed rock for the flower beds, stone or brick retaining walls — all of which are perfect for sculpting a little backyard oasis.
And the best part? You can't kill a hardscape!
So, put a little firepit in the back corner where you can roast marshmallows and draw the eye to it with a fashionable patio paver path. Spread crushed rock in your flower beds and choose just a few evergreen plants to provide colour and contrast. If your yard is on a slope, create terraced beds with retaining walls. It will allow you to make more use of your available space.
3. A Green Expanse
Growing a lawn is always a challenge here in our climate. Plus, keeping it green and gorgeous all winter long is quite literally an impossible feat. Thus, if you've ever tried to plant and maintain a lawn nice in Alberta, you're probably already laughing at us. But hear us out. There is a way to have a gorgeous green property in Lethbridge — year-round.
Before you ask us what sorcery we speak of, check out our excellent synthetic turf. Unlike low-quality artificial turf, our turf looks just like natural grass without all the work required to maintain it. We use environmentally-friendly materials that stand up to the harsh Canadian climate. Plus, it will look the same all year, year after year.
Synthetic turf is perfect as a green addition in small yards. You don't need much to spiff up space, keeping the cost down while boosting the curb appeal factor by a lot.
It's also perfect for dog runs and play areas for kids. They can run around as much as they like without turning the area into a muddy hole or coming in with grass stains on their clothes.
Synthetic turf is also an excellent way to style your front yard without adding anything to your maintenance burden. All you need is a driveway, an expanse of turf, and a couple of plants here and there to add colour, and you have a front yard that is the envy of the entire neighbourhood.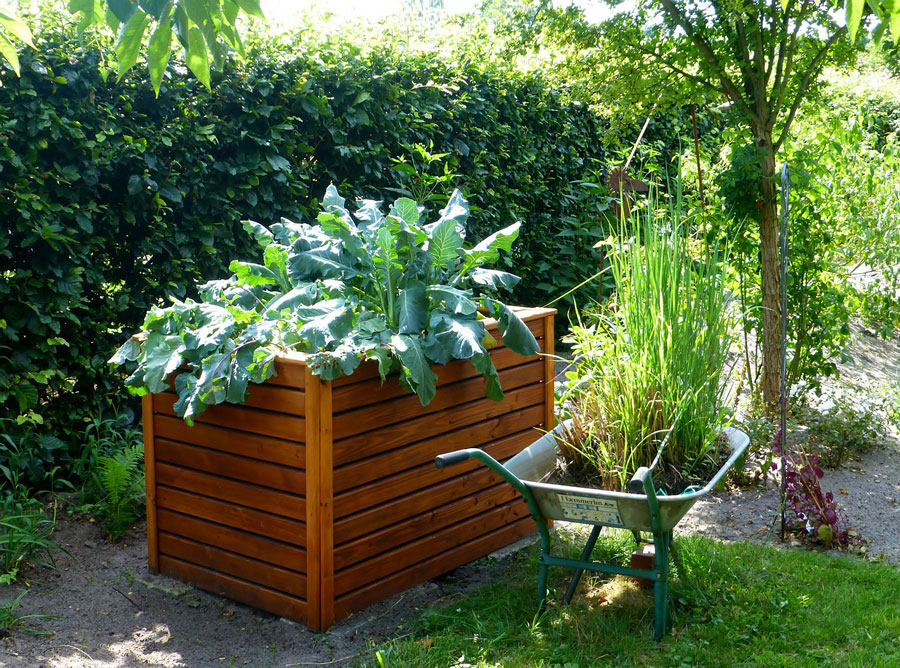 4. Vertical Gardening
Do you want to plant crops of cold-weather veggies like broccoli, eggplant, lettuce, and kale or try your hand at growing colourful blooms? Separating a sizeable portion of a small yard to devote to your hobby will make your yard seem even more minor.
Opt for vertical gardening and other space-saving techniques instead to maximize the amount of space you have.
Use hanging baskets and mount flower pots on the side of your house or fence if you have one. For smaller plants like lettuce or an herb garden, consider building a triangular frame and planting rows of tiny plants upwards instead of outwards. You can even put it on wheels so you can move it around to make the most of any available sunlight.
5. Keep It Compact
However, you decide to style your small backyard, keep the plants and hardscapes you choose compact. Choose small styles of patio furniture with delicate lines that don't take up so much visual space. Pick trees that grow up instead of out.
Choose items that serve a dual purpose or can be easily stored. For example, a patio table that doubles as a bench or a portable fire pit can be stashed in the garage when not used. The fewer items you have cluttering up the yard, the more space it will seem like there is.
With a small yard, the point isn't to fill up space as you would with a larger yard. Instead, you want to choose elements that don't overwhelm the space and make it seem cramped.
If possible, skip the fence. Even if you don't own the surrounding property without a wall to create a visual barrier, your yard will seem more prominent.
The Top 5 Projects for Medium Yards
Medium-sized yards are the best! They are large enough to have some fun with your landscaping, yet small enough that it won't get too expensive. We have a real soft spot for medium-sized yards and are excited to share our favourite landscape project ideas with you.
1. A Resort-Like Destination
Creating a resort-like oasis in your backyard is simpler than you may think. In a medium-sized yard, you have plenty of space to install a spacious patio. Patio pavers are perfect for this, and the mere addition of this simple hardscape will considerably up the elegance factor of your backyard.
Of course, you won't stop there. Choose comfortable patio furniture that fits how you want to use the space. Want to spend time lounging outside when the weather is warm? Choose comfortable recliners. Want to eat outdoors on warm days? Set up a table and chairs. If you're going to get fancy, you can even install a BBQ area complete with a sink and little mini-kitchen.
With the somewhat harsh weather here in Lethbridge, we recommend a covered or partially covered patio to protect your furniture and allow you to use the space more often.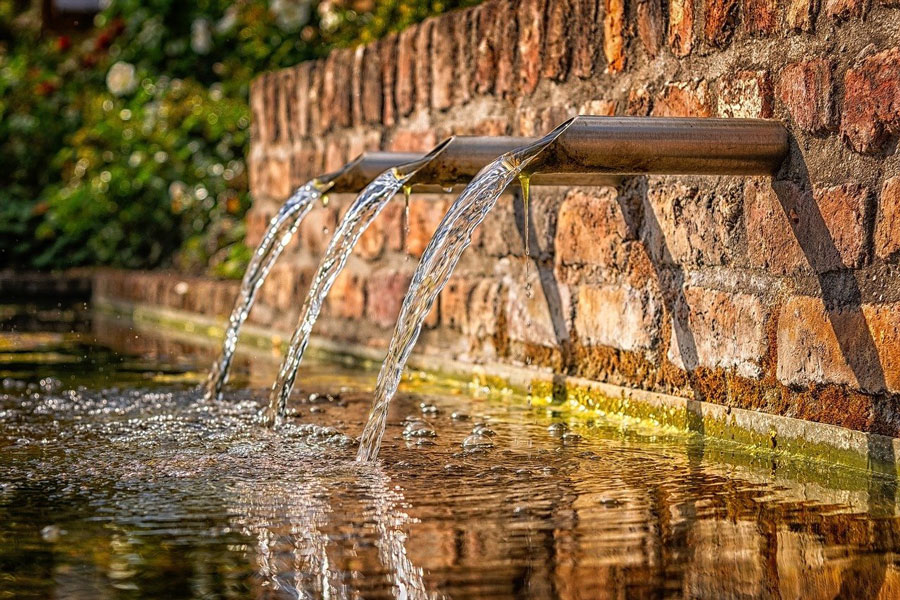 2. Koi Pond and Waterfall
There is something supremely soothing about listening to the sound of running water.
Consider installing a koi pond with a built-in waterfall. Koi fish are relatively easy to care for and don't add much to your maintenance burden. Plus, watching them dart about in the cool, clear water is mesmerizing and somewhat relaxing by itself.
The continual splash of the waterfall is the most soothing sound on hot days after a long day at work. You'll be thanking yourself many times over as you relax on a lounge chair with a cool drink in your hand.
3. Water Fountain
Of course, you don't have to go all out with a koi pond and waterfall to get the benefit of the sound of running water. A simple water fountain is a fantastic way to perk up your space.
Divide your yard with a meandering pathway made from crushed rock or patio pavers. Make your water feature a focal point by placing it in the center of one of the halves of your yard.
Make your water feature stand out by installing an elevated bed and placing a stylish water fountain in the center. You can either place it at one side of your yard or in the middle of an elegant garden space.
Alternatively, you can go a little more incognito and tuck a minor water feature into one of the flowerbeds. The sound of running water will still reach you without making it a prominent feature of your yard.
As a bonus, you might get to see a little more wildlife flitting about your yard as little birds come to take a bath in your fountain.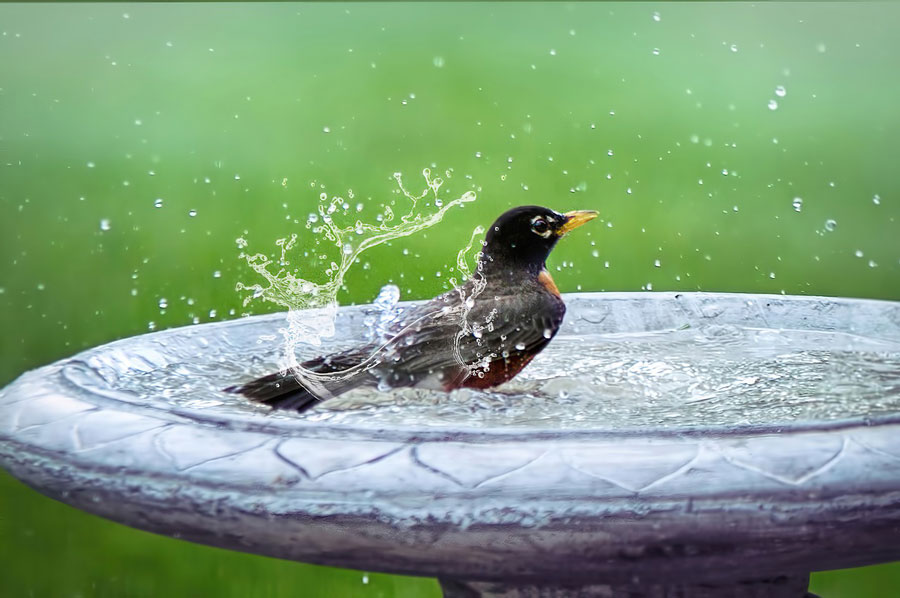 4. Meandering Paths
A larger yard gives you more space to divide it up. Create sections with different functions and little walkways leading to each one.
For example, you might install a vegetable garden in one corner and enjoy a colourful little flower garden in another.
Set up a comfortable place a bit farther away from the house where you can install a firepit. It can be as simple as a large bowl on the ground or something more elegant like an elevated pit with decorative stonework.
Lead the eye and your guests right to the spot with a decorative walkway.
5. Lighting
Once you design and install fantastic landscaping, you may take full advantage of it with the proper lighting. Enjoy your landscaping both day and night, as well as keep your yard more secure.
Uplighting, spotlighting, and other types of landscape lighting allow you to point out and enjoy your favourite parts of your landscaping — even after the sun goes down.
Ready to Tackle Your New Landscaping Project?
Have we piqued your interest with these fantastic Lethbridge landscape project ideas?
Your landscaping is important both because it improves the curb appeal of your home, but also because it makes it more comfortable. Who wouldn't love to come home to a yard that is as inviting as those elegant spaces on the covers of home and garden magazines?
We can help you do it! From hardscape to water features and everything in between, we can help you design the lawn and Southern Alberta landscaping of your dreams.
Reach out to us today to get started!