6 Reasons for Hiring A Professional Landscaper
A landscape is more than just plants, bark, and stonework. It's a work of art, an expression of your personality.
It reflects the pride you have for your home. When you're considering hiring a professional landscaper company for your front yard or backyard, take time to find someone who knows what they are doing. Here are 6 reasons why:
1) They Do What They Say
Landscape companies that rely on their word-of-mouth business will be there for you in the long run. If one particular year isn't good for their company financially, they won't go under because they have built up goodwill with clients and friends. Word-of-mouth has been their main source of income for years so whether it's landscaping services or anything else, you can trust them to deliver.
2) Following the Team
If you're considering getting a quote on landscaping, visit their website or call and ask who will be doing your work. Some companies have one person that takes care of all the quotes while others rotate staff through job sites. You usually can tell which ones are just starting out because they don't yet have a team and there is only one person available to do all the work. If at all possible, get a recommendation from someone who has used their services before not just for landscaping but any service such as concreting or tree removal.
3) Education & Experience
Landscapers know how to design and combine elements in an aesthetically pleasing way. They are trained in the science and art of landscape design. As a result, they create living works of art in your yard or garden that will stand the test of time. You want someone with several years of experience to make sure that everything is properly done including drainage, grading, soil structure and a variety of other important factors that affect the longevity of each element.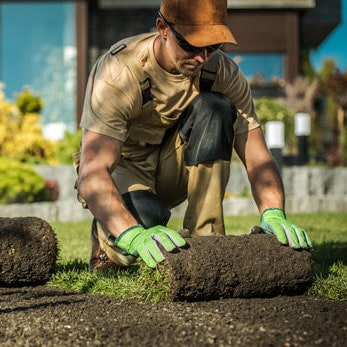 4) Materials
When you have great work performed by a landscaper, it's possible that they will be able to introduce many natural elements into your hardscaping such as rock or wood chips. They also know what type of grass will thrive in different areas based on sunlight exposure so choose wisely when it comes to choosing what type of ground cover plants best suit you – turf grass, sand, rock or gravel.
5) Service & Maintenance
Landscapers are more than just gardeners – they know the importance of routine service to keep your yard looking great and healthy for many years down the road. They will give you a maintenance plan so that you can enjoy your landscape without having to worry about caring for it yourself. They can tell you what type of plants require less watering or how to trim trees in order to let them grow up instead of out because some varieties actually do better when pruned regularly. Some companies have even trained their workers with weed killer application training which keeps invasive species from taking over your yard's natural habitat and increases property value
6) Your Budget
You work hard for the money – so why spend it on something that you can do yourself for free? Landscaping requires specialized knowledge not everyone is born with. While some people can garden and may even be very good at what they do, they aren't a landscaper who has spent years learning how to satisfy their clients' needs. When you hire a specialist like an experienced landscaper, they will tell you upfront what your options are based on the budget which helps save time from making unneeded alterations later down the road.
FAQ's – Hiring a Professional Landscaper
If you still can't decide if landscaping is worth the money to hire a professional, consider these questions.
Will hiring a Landscape company help my property value?
If your answer is yes (and it should be), then you need to call someone who specializes in this type of work. You will be amazed at how much of an improvement you can make with just a few simple changes such as extra attention around your front door or porch and clearing out any overgrown trees that block your windows from natural light. All of these things have an impact on its value when it comes time to sell and many listing features are now including things that people won't even notice like the number of power outlets available or whether there is a system in place that monitors the quality of your drinking water.
Are you a homeowner or a renter?
If it's the former, then there are many benefits to improving small details that can make a big difference over time such as adding stone or brick accents, repainting and more. But if you have no intention of staying put for long, landscaping might be considered an unnecessary expense because these things don't come cheap – even with discounts from hiring someone who is offering them.
How will this improve my enjoyment of homeownership?
There is something about making great use of what resources we have available on our property that improves our overall well being after all we are talking about simple pleasures in life like sitting down to relax in the shade of a tree. While some may scoff at the idea of hiring a landscaping company, it's only when you've tried it for yourself that you'll be able to say with confidence whether or not your investment was worth every penny spent on making outside improvements.
Can I afford to hire a landscaping company?
You can decide for yourself if it's worth the cost – but with so many benefits to hiring a professional, there is little debating that it will add value and enjoyment to your property.
Start out small by thinking of cheap landscaping ideas or inexpensive ways to makeover your yard and then build on them from there until you reach the level of sophistication you want in order to sell your house at auction or for top dollar when putting it up for sale during traditional real estate market times.
But the real question you'll have to ask yourself is whether or not you can afford not to hire a landscaping company. It doesn't matter if you have an overgrown yard with all kinds of unsightly weeds, dead branches or even trees that need trimming low – by calling someone who specializes in these types of services, your property will be looking better than ever before and only for the cost of some time.
Hiring a professional landscaper was one of the best things I've done for my home because they were able to suggest simple inexpensive ways to improve curb appeal without breaking the bank paying for unnecessary upgrades. If you're tired of standing outside admiring other people's yards while yours looks like something out of a horror movie – then make the call and start seeing results today.
Ready to Take your landscape Lighting to the next level?
Landscape lighting is a great way to add some ambiance and interest to your outdoor space. You can set up lighting in any style that suits your yard. Your inspiration can come from anywhere, and possibilities are endless.
For ideas, contact us to speak to our product experts. They'll help you pick the perfect landscape lighting package for your landscape project.